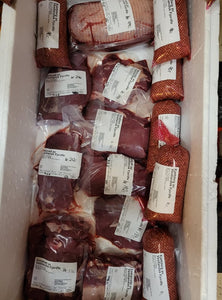 SnillBonde
NEW! GodKu Calf Box with 11 kg of meat!
Regular price
2.950,00 kr
0,00 kr
Unit price
per
Tax included.
VEAL FROM RUBBESTAD-BØMLO!
OFFER : Box with approx. 11 kg of veal. In the box are steaks, filets and minced meat. Td entrecôte, flat steak, round steak, sausage meat, seared veal steak, tenderloin, 8 pcs 500 gr minced meat. PRICE NOK 2950.
The calf was slaughtered on 1 December 2021. Frozen on 18 December 2021.
Calf from Vestlandsk fjordfe has meat with unique marbling, and its own taste.
Our animals are grass-fed, which means that the meat is better and contains more natural omega 3 fatty acids! The meat is matured for a long time, and 100% natural - no additives! This is the original cow that dominated the cultural landscape in Bømlo until the 1970s.
Operations at GodKu in Rubbestad are based on value-based sustainability in food production and animal welfare.
---