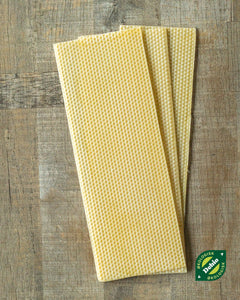 SnillBonde
SnillBie Organic beeswax, 100 grams
Regular price
169,00 kr
0,00 kr
Unit price
per
Tax included.
Beeswax has been sought after for various purposes throughout the ages. In earlier times, beeswax was used to make altar candles in churches and monasteries, and is still used to make wax candles of better quality than candles.
Today, beeswax is also used for impregnating furniture, sewing thread, leather clothes and shoes. In pharmacy, it is used for coating medicines, and it is used to a large extent in cosmetics, eg in salves and creams.
Beeswax is an approved food additive, and has the E number: E901. Beeswax from SnillBie is approved by Debio as an organic product.
---